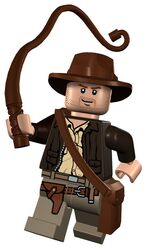 Indiana Jones is a playable character in
LEGO Dimensions 2: The Second Mashup
as for Year 4. He is the protagonist and title character of the Indiana Jones series, and appears in said franchise's level pack.

World
Indiana Jones: Indiana's adventure world
Abilities
Grappling (Whip)
Aim
Tracking
Digging
Vine Cut
Quotes
Trivia
All hiS skills Are Copied From lego indiana jones the adventures ContiNues
Ad blocker interference detected!
Wikia is a free-to-use site that makes money from advertising. We have a modified experience for viewers using ad blockers

Wikia is not accessible if you've made further modifications. Remove the custom ad blocker rule(s) and the page will load as expected.