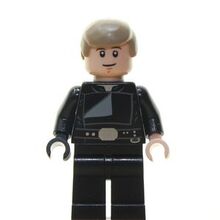 Luke Skywalker is from the series Star Wars.
MarioVsSonicFan
Background
Luke Skywalker is the son of Anakin Skywalker also know as Darth Vader. Luke Skywalker is a Jedi just like his father and and holds a green lightsaber. Luke Skywalker lost his hand to his father but has a robotic one now. It doesn't give him any other ability but just a harder hand.
Abilities
The Force
Force Jump
Illumination
Deflection
Quotes
"Lets do this!" (Luke while entering the game.)
"Looks like my time is up" (Luke leaving the game.)
Trivia
He is voiced by Mark Hamill, his Movie Actor.
Ad blocker interference detected!
Wikia is a free-to-use site that makes money from advertising. We have a modified experience for viewers using ad blockers

Wikia is not accessible if you've made further modifications. Remove the custom ad blocker rule(s) and the page will load as expected.