Skips is a playable character in LEGO Dimensions. He is one of the main characters of the Regular Show franchise, and appears as a fun pack.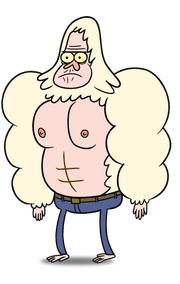 Background
Skips is the yeti who works in the Park.
world
Regular Show: the Park
Abilities
Strength
arm wrestle attack
bowling attack
sword attack
punching
Quotes
"I'm in for the fight."
-Skips' first line when entering the game
"Fine, but it's gonna be fun!"
-Skips' second line when entering the game
"Alright, where am I?"
-Skips' third line when entering the game
Trivia
Ad blocker interference detected!
Wikia is a free-to-use site that makes money from advertising. We have a modified experience for viewers using ad blockers

Wikia is not accessible if you've made further modifications. Remove the custom ad blocker rule(s) and the page will load as expected.