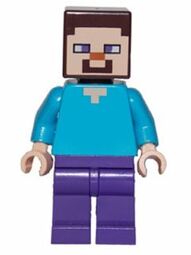 Steve is the protagonist of the Minecraft Franchise). He comes in the Minecraft Level Pack.
World
Minecraft-- Overworld
Abilities
Character Changing Ability (Can change to Alex and the skins in the Minecraft Skin packs)
Deflection Ability (Uses shield)
Illumination Ability (Uses torch)
Target Ability (Uses bow and arrows)
Mine Ability (Can mine Minecraft blocks)
Weapon Switch Ability (Sword, Axe, Hoe, Pickaxe, Bow, Shovel, and Potion)
Stealth (Uses Pumpkin Head)
Dig (Uses Shovel)
Master Build 
Quotes
Trivia
He is a minifigure version of his design in LEGO Minecraft packs.