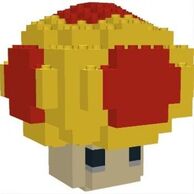 The Super Mushroom is a gadget from the Nintendo franchise. It comes in the Nintendo Level Pack.
It is only usable in the Wii U version of the game. When someone attempts to use it on any other console, it will bring up a message that the object could not be read.
Abilities
Transforms Mario into Super Mario if on the toy pad.
Trivia